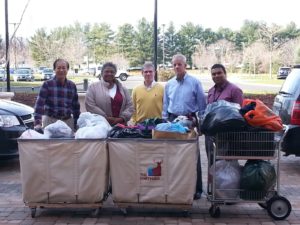 Footwear with Care Events:
Two or three times a year, Footwear with Care holds "Stuff a Cruiser" Drives and Foot Clinics for homeless families in Hartford. Volunteers can help collect new shoes and organize them in preparation for each event. Click here to learn more about Footwear with Care.
Group Projects:
Volunteer groups can support CPA with everything from "Day of Caring" projects, to voter registration sign ups, to holiday toy and coat drives.
Special Skills Volunteers:
Volunteers bring their special skills and trainings to CPA to provide our participants with experiences such as photo workshops, service dog demonstrations, financial literacy, wellness sessions, and spiritual services.
Special Events:
Volunteers are the backbone of our special events throughout the year. Whether it is participating on a planning committee, helping to request items for our auctions, or being on-site to help, you are always welcome.
If you have a project in mind, or want to let us know you are available to pitch in, contact Sandra Bradford-Jennings, Director of Development.