Footwear with Care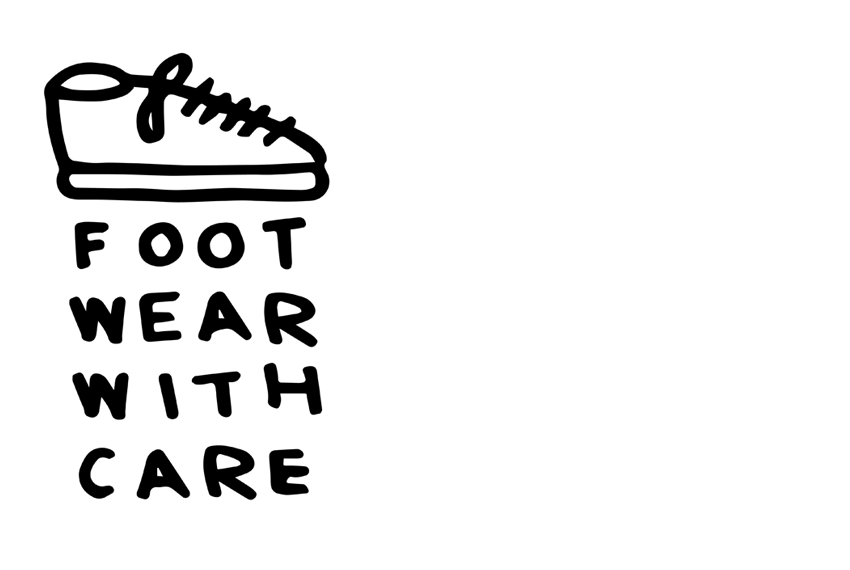 Most homeless people lack decent footwear. Many don't receive regular foot care.
In Hartford, Footwear with Care (FWC) is helping to change this.  Since its start in 2016, FWC has put more than 1,700 pairs of sturdy shoes and boots on the feet of Hartford's homeless. Its volunteer doctors have performed 350 vital foot exams.
FWC typically provides basic walking, running and hiking shoes as well as winter boots. But it also gives steel-toed boots, non-slip kitchen shoes, and dress footwear that enable homeless people to work in construction, culinary services, and offices.
FWC was founded by Abby Sullivan Moore, a journalist and author, with the help of CPA's Deb Barrows. They were inspired by Hartford Police Officer Jimmy Barrett, an Iraqi War veteran with an avocation for the homeless. Moved by a homeless vet whose only footwear were worn-out flip-flops, Officer Barrett bought him some new shoes.
A Unique Partnership
Abby and Deb believed Officer Barrett could use some help and reached out to:
Fleet Feet of West Hartford
Connecticut Podiatric Medical Association
Hartford Police Department
Together, the four groups formed Footwear with Care, delivering urgently needed shoes and foot exams.
"Healthy feet and a pair of decent, well-fitting shoes have a profound effect on a person's overall well-being"
— Dr. Lynn LeBlanc, Bloomfield Podiatrist and FWC Partner
Our Work
Large-scale Footwear/Foot Exam Clinics
At the most recent event April 29 at Hartford City Hall, 481 people received new socks, new and "like new" shoes, with 70 others receiving rain-checks when their sizes ran out. Volunteer doctors performed 50 foot exams.
Hartford Community Court
FWC shoes, boots and socks are also distributed by CPA staff at Hartford Community Court where Deb supervises the court's community services program.
Police Office at Hartford City Hall
At City Hall, Officer Jimmy Barrett works directly with the homeless, outfitting them with shoes, socks and other essentials provided by FWC.
Mobile Shoe Team
Abby, FWC volunteers and CPA staff respond to multiple referrals from homeless shelters, police, schools and other nonprofits. To get the best fit, FWC first measures children's feet and then provides shoes.
Pop-up Boot Clinics and Outreach to Homeless Living Outdoors
During the winter, FWC holds pop-up boot parties outside city soup kitchens. It also works with Officer Barrett and other outreach workers to help homeless people living under area highways and other outdoor refuges.
New Shoes and Pizza Parties
In the summer, FWC throws parties for homeless children, providing new shoes, socks, pizza and, of course, some fun.
Shoe and Sock Sources
FWC depends on donations from the community, retailers, and deep discounts from manufacturers. Grants also help. Bombas also provides many, high-quality socks.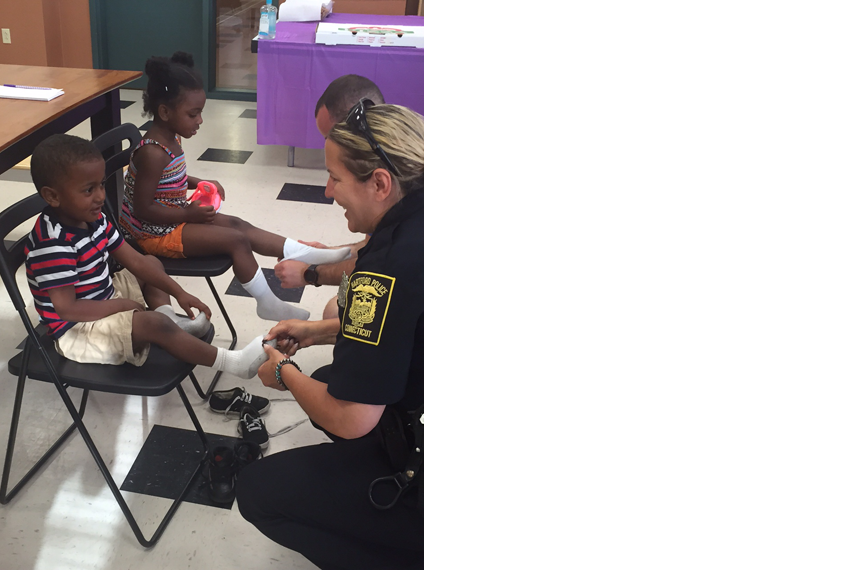 Upcoming Events
Upcoming Events
"Stuff-a-Cruiser" Drive:
Sat, November 25th
10AM – 1PM
Fleet Feet – West Hartford
Winter Boot Party:
Sat, December 9th
Hartford City Hall
We would love for you or your company to get involved with the event! If you're interested in donating new boots, please contact Abby Sullivan Moore, Footwear with Care Founder, at 860-716-0425 or by email. You can also donate funds here!
The Need
The Need
The need is great. More than 700 adults and children in Hartford were homeless last winter, according to the Connecticut Coalition to End Homelessness. This doesn't include many other children and young adults living in temporary, unstable housing. Given how rapidly young feet grow, children and teens are especially in need.
FWC Supporters
They include Fleet Feet, Hartford Foundation for Public Giving, Connecticut Podiatric Medical Association, Bombas, Connecticut Pharmacy, Holy Trinity Church, Asics, the North Face, Saucony, New Balance, Adidas, FootPrints of Newington, Connecticut Pharmacy and Insane Irving's.
Ways to Help:
Every $25 helps buy a great, new pair of shoes –and the ability to navigate life with comfort and confidence.
Our goals are to give homeless people the dignity and comfort of decent footwear as well as help in keeping their feet healthy.
Visit our Donation Page and Give Today!
Contact:
Abby Sullivan Moore, Footwear with Care Founder
860-716-0425
Deborah Barrows, CPA Program Manager
860-756-7035
FWC at Hartford Community Court
80 Washington Street
Hartford, CT 06106
Tel: (860) 756-7035